Chaperones for wild molecules
18 April 2008
Researchers at the Universiteit van Amsterdam together with colleagues from the United States, Scotland and Italy have now developed a molecular template that applies a specific shape to the molecule they want to investigate. They can give such a template different shapes so that it is even possible to study structures that the free molecule would not otherwise assume.
Unraveling the structure of individual large molecules within a complex system of molecules is virtually impossible, as these molecules can adopt a vast number of different structures. The researchers expect that in the future this new technique will play a major role in unravelling and controlling the structural dynamics of complex molecular systems. They published their results in the journal Angewandte Chemie on 14 April 2008, and it was one of the featured articles in the issue. One of the researchers is Anouk Rijs, a postdoctoral student in the research group Molecular Dynamics within the Rijnhuizen FOM-Institute for Plasma Physics.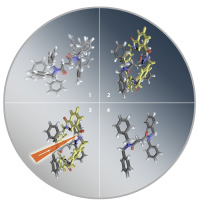 Read more
www.fom.nl/live/nieuws/artikel.pag?objectnumber=74651
See also
Scientific focus