July 30th 2009
21 February 2008
On Tuesday 19 February the Minister of Economic Affairs, Maria van der Hoeven, made a working visit to the site of the ITER nuclear fusion experiment, to which the Netherlands is an important contributor, in southern France.
The aim of the visit was to strengthen the industrial cooperation in technologically advanced projects between the Netherlands and France. The visit was a part of the Minister's economic mission on 18-19 February. Representatives of fifteen Dutch companies seeking French partners in order to join ITER accompanied the Minister during her visit.
RTL-News focused on Van der Hoevens visit in a broadcast on February 16th and also shot at the FOM Institute for Plasma Physics Rijnhuizen.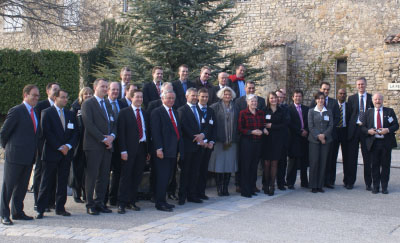 The Ministry of Economic Affairs made a (Dutch spoken) movie about Van der Hoevens visit
Video voor 3 GP player Video (3gp, 1.7MB)
Video voor MPEG movie player (mp4, 10.6MB)
Read more at ITER-NL
http://www.iter.org/newsline/issues/20/ITERnewsline.htm
Press release
www.iter-nl.nl/nl/news080219 (Dutch)