August 24th 2011
24 August 2011
At the Netherlands' largest music festival in August, the 55.000 visitors expect more than just great music. This year, they were treated to visions of a sustainable future at the floating LLowlab science centre. Rijnhuizen presented two fusion related demo's at LLowlab, getting enthousiastic responses to its hands-on plasma and remote handling experiments.
See the movie registration of LLowlab 2011 here
At the end of August, an unremarkable stretch of land near the Dutch village of Biddinghuizen transforms into the nation's largest music festival. Lowlands, with a three day programme for 55.000 visitors and tens of stages, traditionally features more than music alone. For the second year in a row, over 20 partners have showcased their view on a sustainable tomorrow on the floating LLowlab science centre opposite the main stage. In 2010, Rijnhuizen presented its Fusion Road Show there and this year, Bram Lamers and Dennis Ronden represented Rijnhuizen with demo's on plasma confinement and remote handling. These two techniques are critical to making fusion a succesful future energy source. Over 13.000 music fans visited LLowlab and discovered the magic of fusion.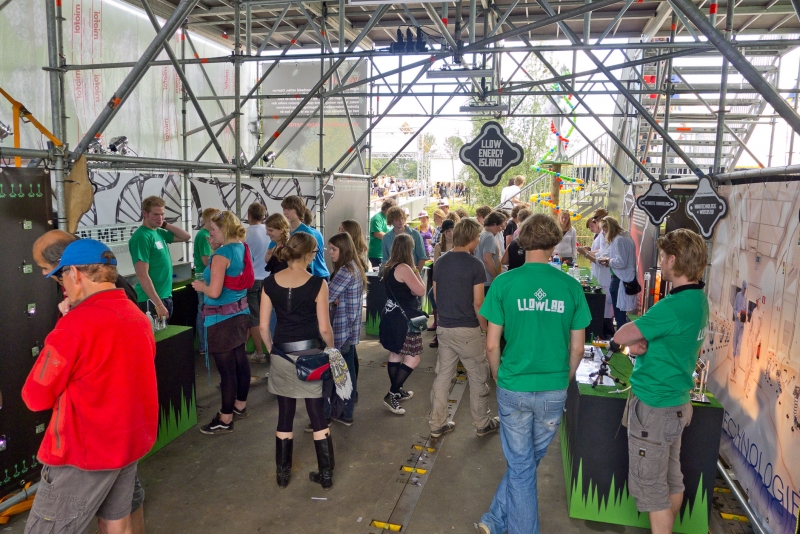 Plasma
Bram Lamers, just back from Lowlands, is very excited about the experience: "I was really happy – and a bit surprised! – that our science story got such great response at this music festival." Bram presented the plasma experiment Mellator, on loan from the European travelling Fusion Expo exhibit. In the donut-shaped vessel, a hot plasma is kept in place using magnets. The same technique is used in real fusion experiments to confine the hot, ionised fusion fuel, a plasma of hydrogen isotopes. LLowlab's visitors could see and feel the interplay of magnets and plasma themselves by using a big horseshoe magnet to prod the plasma from a distance. "Most of our visitors had already heard about fusion in school, many even new the ITER project, and they were happy to learn more about this project. We got many questions: how does fusion work, when will we have fusion energy coming out of the wall socket, can I fit a fusion reactor in my car, it went on and on!" The festival visitors stayed at the fusion stand for 10 minutes on average, and the entire exhibit drew 10.000 people during the three day festival.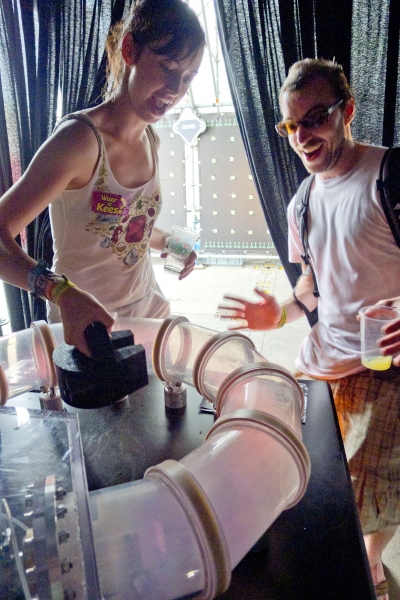 Mellator-experiment - grab hold of a plasma with a magnet
Gripper
The second fusion-related demo that Rijnhuizen brought to LLowlab is the brand new Remote Handling-setup. To perform maintenance in a fusion reactor, remotely controlled robot-arms are used. Working at a distance with metal grippers, while you're looking at camera screens to see what's happening is a lot more challenging than reaching out with your own hand to slot a component into place. In the Remote Handling-demo, visitors experienced that first-hand. Within a 90 second time limit, they had to use a gripper and slot four components of the ITER fusion reactor into the right place. Easier than it looks!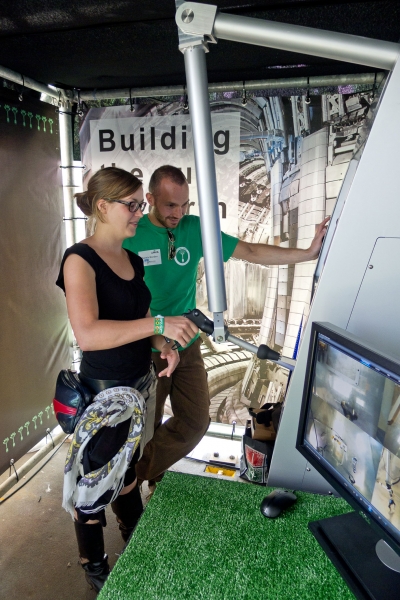 "People spot the challenges that Remote Handling poses in a heartbeat with this setup", says Dennis Ronden, who presented the demo at Llowlab. At Rijnhuizen, Ronden is involved in the Remote Handling Study Centre, set up to test Remote Handling maintenance of ITER components before they are being built. At Lowlands, the demo attracted many enthousiasts; seeing your friends fumble the childishly simple task of square-block-into-square-whole is very entertaining. It also sparked discussion about how the technique fits into fusion research and how researchers are optimising Remote Handling procedures to make them easy to use.
After three exciting (and exhausting!) days of fusion outreach at Lowlands, Bram and Dennis are pleased with their results. In-depth discussions of fusion with thousands and showing fusion to thousands more, really whet their appetite. "Would we do this again next year? Of course!"
More