At DIFFER, we work on a future in which clean energy will be available to everybody, anywhere in the world. DIFFER is located on the campus of Eindhoven University of Technology, at De Zaale 20 in Eindhoven. Want to know how to reach DIFFER? Please visit our contact page.
Energy
The DIFFER building, opened in 2015, is designed to be energy efficient. The specially designed sawtooth profile of the east and west facades ensures that offices always enjoy daylight, even when the sun screens are lowered to block direct rays. Other measures include LED lighting in most spaces, triple glazing in the windows and 922 solar panels on the roof, which produce some 189,000 kilowatthours per year. Our heating and cooling are connected to the underground heat/cold storage of the campus.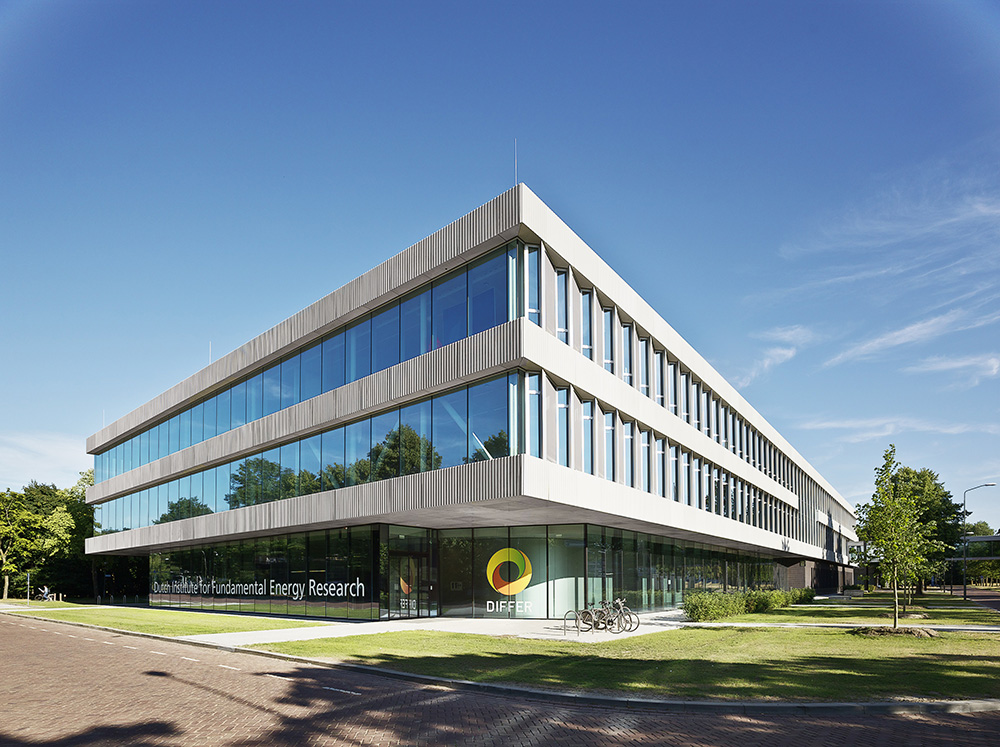 Sustainable building: BREEAM-NL Excellent
We perform our research into sustainable energy in a building that is as environment-friendly as possible. DIFFER's building was the first research building in the Netherlands to achieve the high sustainability score of BREEAM-NL Excellent for both its offices as its laboratories.
Design
DIFFER's two large experimental halls are surrounded by a three story ring of offices and smaller laboratory spaces. Meeting rooms, the company restaurant and reading areas are located in between the two experimental halls, on one of the important sight axes of the campus. People on the different stories can see each other through open stairwells and balconies, promoting contact between building users and visitors to the institute.

Environment
When constructing our new building we took care to limit our impact on the environment and minimalize our ecological footprint. We used sustainable materials and separated construction waste. Foundation piles were drilled into the ground which produces far less tremors than traditional pile driving. Special rainwater drainages reduce stress of the ecosystem of the surrounding Dommel valley. Trees that had to be moved during construction were replaced, and we mounted nest boxes for the local birds and bats.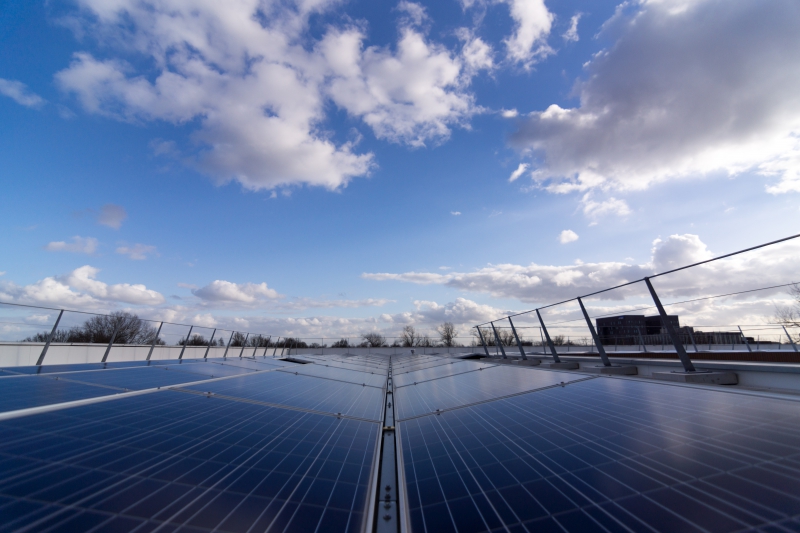 Left: central stairwell. Right: solar panels on the roof of DIFFER. Photos: Norbert van Onna
Read about the details of our sustainable building (in Dutch)