Wetenschappers van het Nederlandse energie-onderzoeksinstituut DIFFER brengen kernenergie via inherent veilige thoriumreactoren een stap dichterbij. Hiervoor werd de DICE-faciliteit gisteren officieel in gebruik genomen.
In het voorjaar van 2022 maakte Provincie Noord-Brabant bekend als onderdeel van de Innovatiecoalitie Nucleair ook te investeren in de ontwikkeling van technologie voor een thoriumreactor, ook wel gesmolten-zout-reactor genoemd.
Het grote voordeel van dit type kernsplijtingsreactoren is dat ze geen meltdown kunnen hebben. Ze stoppen gewoon als er iets mis is. Bovendien komt er minder sterk radioactief afval vrij.
Lees de rest van het artikel van Guy Leysen op Engineeringnet.
Image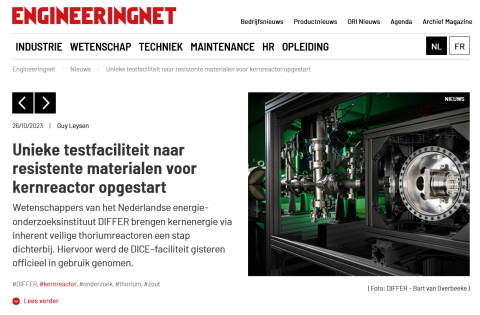 Engineeringnet
Return to the Media clippings page.