Vele Europese waterstoffabrieken zijn de komende jaren nodig voor de energietransitie. Wie maakt daarvoor de vele duizenden electrolyzers? Als het aan Dutch Electrolyzer ligt de Nederlandse maakindustrie, met technologie van onder meer de TU/e.
ED, Harrie Verrijt
Zet twee elektroden in een beker water en laat daar elektrische stroom tussen lopen. Zo is in menig scheikundelokaal aan leerlingen getoond hoe je waterstof (en zuurstof) van water maakt. Een simpel principe dat door de energietransitie de komende jaren kan leiden tot een enorme industrie.
Dat gegeven heeft in Eindhoven geleid tot Dutch Electrolyzer. Dat is een samenwerking tussen bedrijven, wetenschap en overheid waar deze regio zo beroemd om is. Het doel: een flink aandeel pakken in de productie van de vele duizenden electrolyzers die de komende jaren nodig zijn. Dit om de huidige productie van waterstof uit fossiele grondstoffen te vervangen én om waterstof te maken als drager van groene energie.
 
Lees de rest van het artikel op de website van ED (€). DIFFER is onderdeel van Dutch Electrolyzer.
Image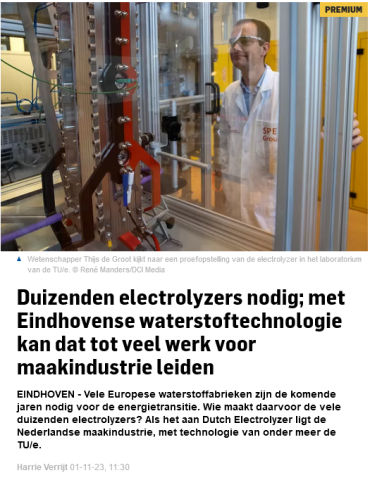 Eindhovens Dagblad
Return to the Media clippings page.