November 17th 2020
Tijs Wijkamp won the Shell Graduation Award for Physics 2020 for the master project he carried out at DIFFER. The award is one of the annual Young Talent Awards by the Koninklijke Hollandsche Maatschappij der Wetenschappen (Royal Holland Society of Sciences and Humanities).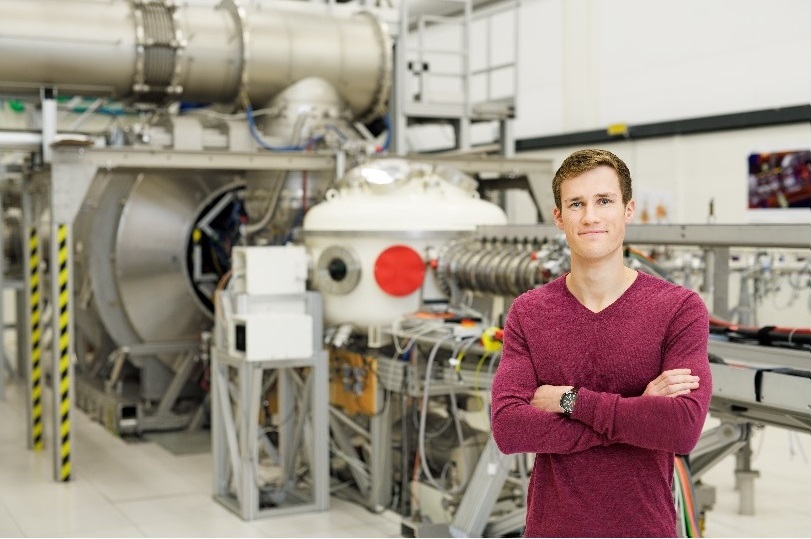 Award Ceremony
DIFFER researcher Wijkamp feels honored to receive the Shell Graduation Award for Physics 2020. The price comes with an amount of 3.000 euros. The award ceremony was online on 30 November 2020.
Diagnostics
Wijkamp did a one-year graduation project at DIFFER. His research field was diagnostics in fusion research. A hurdle for commercial fusion reactor is the formation and loss of relativistic electrons to the wall, when control over the fusion plasma is lost. Better understanding of how to avoid the formation of these particles, or deal with them if you can't, demands new ways of probing them in present day experiments.
Butterfly-like
During his master project, Wijkamp investigated whether an existing optical measurement system, Mantis, was suitable for observing superfast 'runaway' electrons in the plasma of a fusion reactor. He demonstrated that by looking at the visible light, emitted by the runaways through different optical filters, one can better constrain their location and energy than previously possible. Wijkamp: "I remember the moment we realized we could actually detect the runaways very well. During measurements in Lausanne, we saw a butterfly-like figure. Were those the runaways? The answer was yes, a theoretician had seen a figure just like that in the models."
Dual master
Wijkamp has completed a dual master's (Science and Technology of Nuclear Fusion plus Applied Physics). He is now doing doctoral research at DIFFER and TU/e in the same field. An article on his latest work was recently submitted to the journal Nuclear Fusion.
More information
Award Ceremonie
KHMW, Young Talent Awards
Newsitem TU/e
Article
Tomographic reconstruction of the runaway distribution function in TCV using multispectral synchrotron images (submitted), T.A. Wijkamp, A. Perek, J. Decker, B. Duval, M.Hoppe, G. Papp, U.A. Sheikh, I.G.J. Classen, R.J.E.Jaspers, the TCV team, the EUROfusion MST1 team. The submitted version can be found on ArXiv.
Jury report (in Dutch)
T.A. (Tijs) Wijkamp MSc, Technische Universiteit Eindhoven
Synchrotron radiation detection and 2D emissivity profile reconstruction in TCVexploring the power of multispectral imaging systems in runaway electron studies
Tijs Wijkampis cum laude afgestudeerd voor de master Applied Physics als ook voor de master Science and Technology of Nuclear Fusion. Zijn scriptie is beloond en bekroond met een 10, en vandaag reiken we ook de Shell-prijs aan hem uit. Waarmee heeft hij dit verdiend?
Kernfusie is een grote beloftevoor het energieprobleem. Onderzoek wordt bedreven door een grote internationale gemeenschap, het is dus niet eenvoudig om binnen een paar maanden een voet aande grond te krijgen in dit vak. Maar Tijs is het wel gelukt om als masterstudent grote stappen te zetten in metingen en begrip van runaway elektronen in fusiereactoren. Hij is uitgenodigd om zijn resultaten op een internationale workshop te presenteren en zijn werk is ook al ingediend bij een toonaangevend tijdschrift.Terwijl hij net aan z'n promotie begint, is hij al een erkend lid van deze internationale gemeenschap.
Elektron runaway betekent dat elektronen herhaaldelijk in hoge lokale elektrische velden in de reactor verder versneld wordenen zo'n hoge energie bereiken, dat ze steeds moeilijker af te remmen zijn door botsingen met andere geladen deeltjes binnen het plasma. Uiteindelijk kunnen ze diep relativistische energieën bereiken van vele MeV. Als een bundel van vele runaway elektronen de reactorwand raakt, kan dit tot onherstelbare schade aan de wand leiden. Maar hoe waarschijnlijk is het, dat dit gebeurt?
Tijs heeft dit experimenteel onderzocht aan de Europese fusiereactor TCV in Lausanne. Hij heeft aangetoond dat de energieverdeling alsmede het dichtheidsprofiel kwantitatief gemeten kan worden door de synchrotronstraling,uitgezonden door deze relativistische elektronen,te analyseren. En hij heeft gevonden dat de energie van deze elektronen veel hoger is dan tot nog toe aangenomen. Als hypothese stelt Tijs dat een resonante interactie tussen deze hoog-energetische runaways en de altijd aanwezige rimpelingen van het magneetveld hiervoor zorgt. Dit zou een duidelijke richting aangeven voor verdere experimenten,met als doel het manipuleren van de runaway energieverdeling en uiteindelijk het voorkomen van schade aan de fusiereactor.
Prof.dr.E.P.A.M. (Erik) Bakkers,hoogleraartoegepaste natuurkundeTechnische Universiteit Eindhoven
Prof.dr.U.(Ute)Ebert, hoogleraar toegepaste natuurkunde Technische Universiteit Eindhoven en groepsleider Multiscale Dynamics bij het Centrum Wiskunde & Informatica in Amsterdam
Prof.dr.S.J.(Sijbrand) de Jong, hoogleraar experimentele natuurkunde Radboud Universiteit Nijmegen
De jury vergaderde op 3 november 2020 onder leiding van Dr. W. (Willem) Bijleveld, directeur KHMW. Daarnaast waren ter vergadering aanwezig Prof. dr. A.P. (Ad) IJzerman, secretaris natuurwetenschappen en S. (Saskia) de Boer (verslag).