July 10th 2020

How can we electrify industry and aviation when they rely so much on fossil resources for their energy and raw materials? The Dutch ECCM conference on 26 June 2020 brought together international experts in the field of ElectroChemical Conversion and Materials.
Watch the registration of this online event
Check out the conference page
In the near future, renewable electricity will play a major role in the transition to a low carbon energy economy. However, the need will persist for other fuel sources (for aviation, shipping and heavy road transport) and for chemical products and materials. The big challenge is therefore to produce these fuels and chemical products via renewable electricity, starting from biomass and/or CO2.
The 26 June ECCM conference presented the international state of the art in converting renewable electricity into fuels and other chemical products and materials. The keynote speakers discussed the role of ECCM in the energy transition, sharing the viewpoint of China, Germany, the US and the Netherlands. The second half of the conference took participants through some of the most prominent national initiatives in the field and the developments expected in the coming years.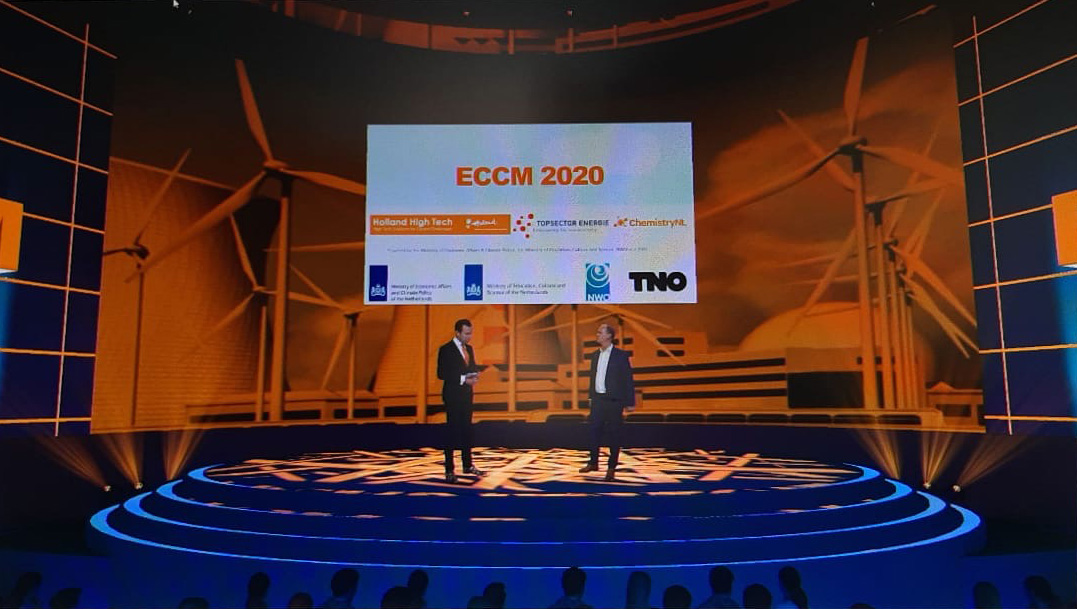 About ECCM
The Advisory Committee for Electrochemical Conversion & Materials (ECCM) advises the Dutch government to make the transition to a CO2 neutral industry based on intermittent sustainable energy generation, storage and conversion. The committee was established by the top sectors HTSM, Energy and Chemistry, with support from NWO and TNO and in collaboration with the Ministries of Economic Affairs & Climate Policy (EZK), the Ministry of Education, Culture and Science (OCW) and the Dutch National Research Agenda (NWA).
ECCM is the cross-sectoral theme to achieve the above-mentioned transition objective. The committee coordinates efforts in the field of ECCM at national level, by initiating new cooperation initiatives and by adopting initiatives that fit within the scope of the advisory report that the committee has published. From a national perspective, the committee advises the government on what efforts are needed to collaborate throughout the innovation chain.
In addition, the committee is busy building an ECCM community of knowledge institutions, companies, governments and NGOs. To this end, the committee organizes conferences in the field of ECCM and an annual graduate school.
More information