DIFFER-postdoc Aaron Ho heeft samen met de bij DIFFER gepromoveerde Luca Vialetto (nu postdoc in Duitsland bij de Christian-Albrechts-Universität zu Kiel) de Rutherford Plasma Physics Communication Prize 2023 gewonnen. Ze ontvangen de prijs voor de podcast-achtige video's op hun YouTube-kanaal Coffee Breakdown.
In de podcast, die ontstaan is tijdens de coronapandemie, praten Ho en Vialetto met elkaar en met gasten over hun ervaringen in plasmaonderzoek. De meest recente aflevering gaat over vrouwen in de wetenschap. In die aflevering spreken twee promovenda van DIFFER, Maria Morbey en Laura Fumagalli, onder andere over de impact van vrouwelijke collega's en over stimuleringsbeleid.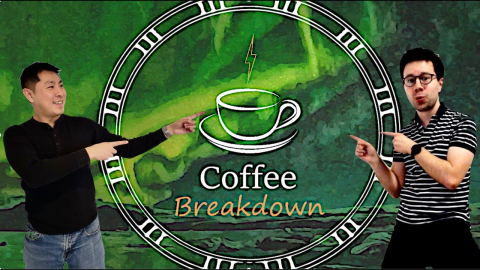 Voor studenten en ervaren onderzoekers
Oorspronkelijk wilden Ho en Vialetto een platform creëren voor studenten. "Later hebben we dat uitgebreid naar ervaren onderzoekers", zegt Aaron Ho. "We bieden een ontspannen sfeer voor allerlei wetenschappers om hun expertise, gedachten en ervaringen in de plasmawetenschap te delen."
Het kanaal Coffee Breakdown bevat inmiddels meer dan 25 afleveringen. De meeste duren ongeveer een uur, maar er zijn ook kortere en langere afleveringen. In totaal zijn de afleveringen meer dan 3000 keer bekeken.
Over de prijs
De Rutherford Plasma Physics Communication Prize is bedoeld voor uitmuntende communicatie van plasmafysica aan niet-deskundigen. De prijs wordt sinds 2013 uitgereikt door het Institute of Physics, de vereniging van Britse en Ierse natuurkundigen. De winnaar mag op de jaarlijkse plasmaconferentie een lezing houden en ontvangt 500 euro.

English translation: www.differ.nl/aaron-ho-wins-prize-with-plasma-podcast-series
Go to the News page.