June 3rd 2015
3 June 2015
On Thursday 28 May, a new 3.5 MV ion accelerator for materials research moved into the new DIFFER building. Careful manoeuvring was required to get the 7.8 ton accelerator tank into its experiment hall, where it will become the heart of an ion beam facility for materials research in fusion and solar fuels.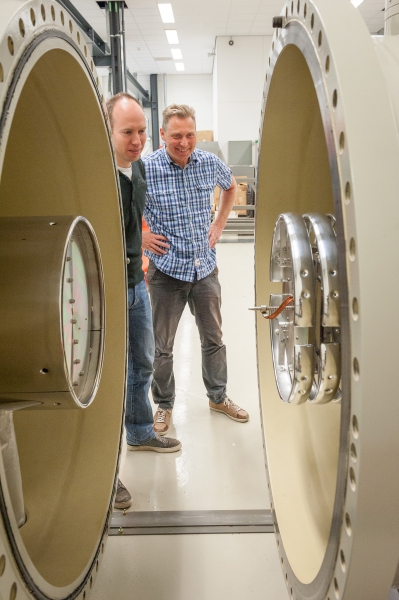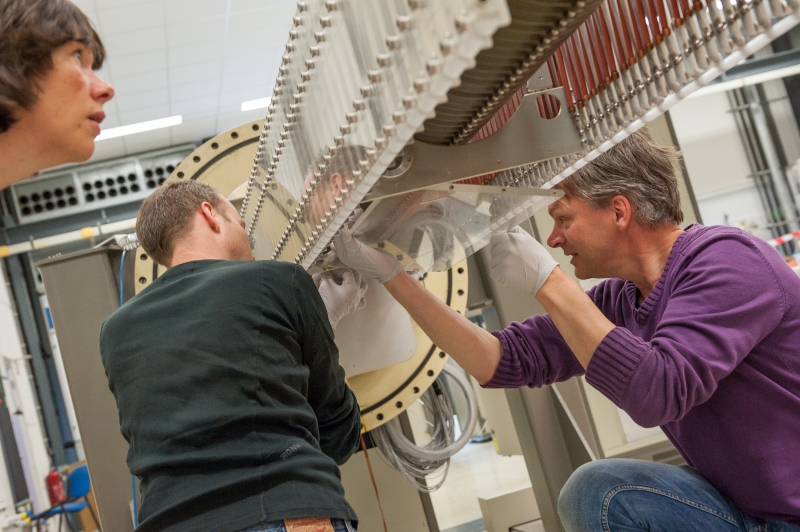 Left: Opening up the SF6 containment tank to remove the ion source (right) and accelerator (left) before transport.
Right: Inspection of the accelerator section before its relocation to DIFFER.
Building up the ion beam facility
The equipment moved to DIFFER includes the ion source and accelerator of the ion beam facility (IBF), both housed in a 7.5m tank. The system was acquired for a symbolic €1 from nearby the Accelerator Technologies BV (AccTec) on the campus of Eindhoven University of Technology. In preparation for the move, experts from High Voltage Engineering Europa B.V. (HVE) and KVI-Center for Advanced Radiation Technology (KVI-CART) helped dismantle the accelerator and advised on refurbishment and upgrades. Now that the accelerator is on site, the next step is the careful alignment of these components and then the construction of the beam lines to Magnum-PSI and a stand-alone ion beam analysis station open to external users.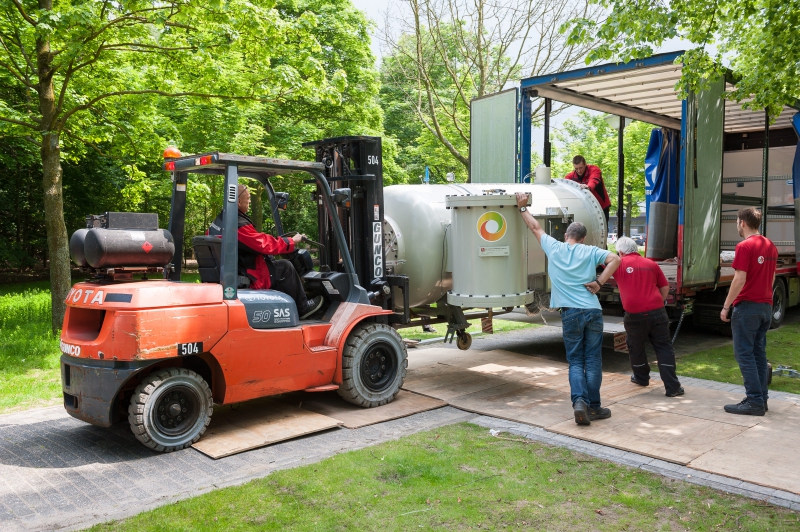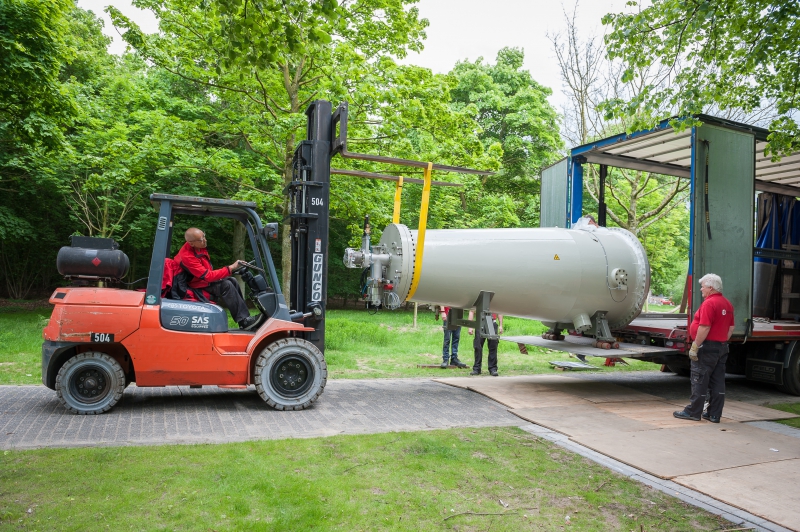 Moving the ion source (left) and ion accelerator tanks
Materials research for fusion
The 3.5 MV singletron accelerator will first be connected to the target exchange and analysis chamber of Magnum-PSI. This is DIFFER's main experiment to investigate the interplay between materials and extreme plasma's. This worldwide unique facility can mimic the plasma conditions near the walls of fusion reactors. With the addition of the ion accelerator, the PSI team gain a new technique to characterize the effect of such harsh conditions on complete fusion wall mock-ups. The researchers even hope to study the dynamics of the plasma-surface interface during plasma exposure with a modified version of Magnum's sister experiment Pilot-PSI, currently still operating in Nieuwegein.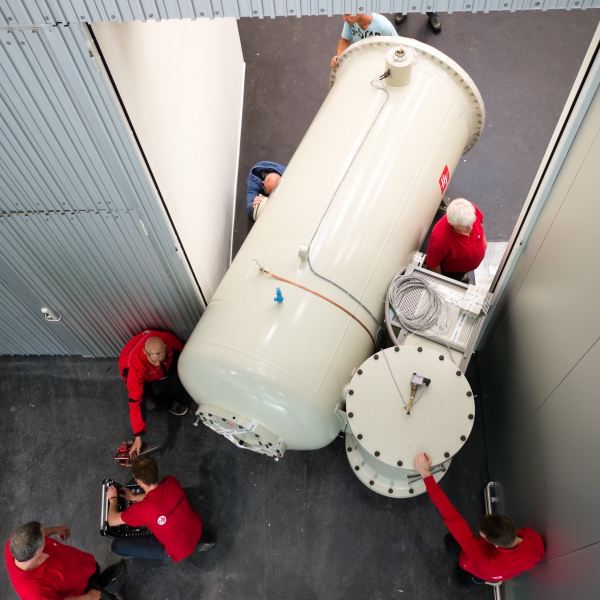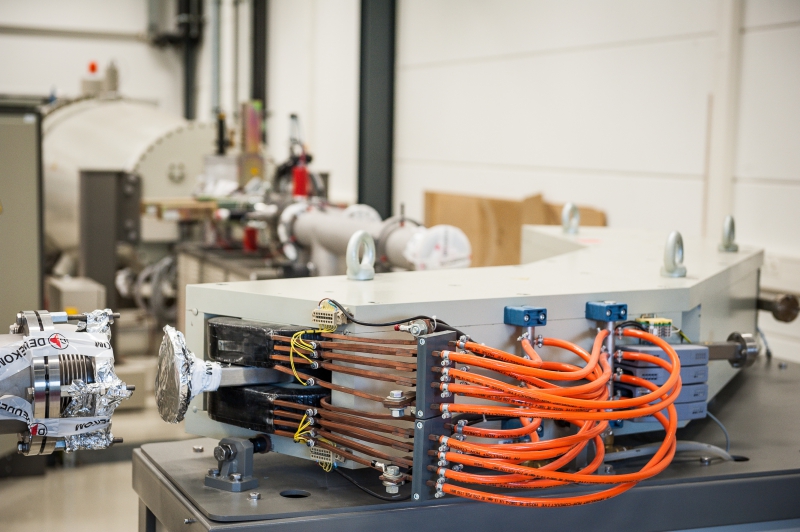 Left: careful manoeuvring (with max 5 cm between tank and wall) of the tank into the experiment hall
Right: the bending magnet steers the ion beam from the accelerator to the switch magnet
In operando energy materials
DIFFER's ambition is to position the ion accelerator as the heart of a world class facility for materials and interfaces research under the operating conditions in energy devices. This will enable us to investigate for the first time the unique chemistry, physics, and materials science which determines device efficiency, stability, and lifetime.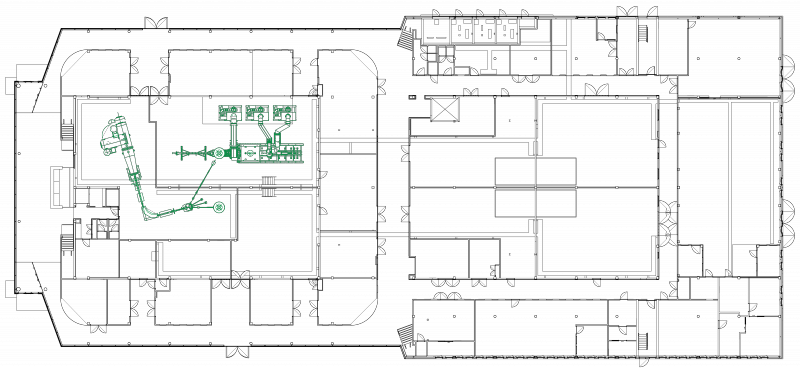 Floor plan of DIFFER (North is to the left) with the Ion Beam Facility (left) and Magnum-PSI (right)
 
---
Credit photo bottom left: Andries Broekema / DIFFER. Other photos: Bram Lamers / DIFFER
For high-res versions or other questions, please f [368] t [368] m [368] e [368] devries [28] differ [368] nl (contact the communication office)