April 30th 2019
Op dinsdag 30 april maakte DIFFER kennis met Freya Senf, die op 1 augustus start als nieuwe instituutsmanager van DIFFER. De afgelopen jaren was Senf werkzaam als managing director van het Instituut voor Moleculen en Materialen van de Radboud Universiteit. Bij DIFFER volgt ze instituutsmanager Wim Koppers op, die begin dit jaar aantrad als directeur bedrijfsvoering en financiën bij NWO. Freya Senf geeft als instituutsmanager leiding aan de ondersteunende afdelingen van het instituut en wordt lid van het management team.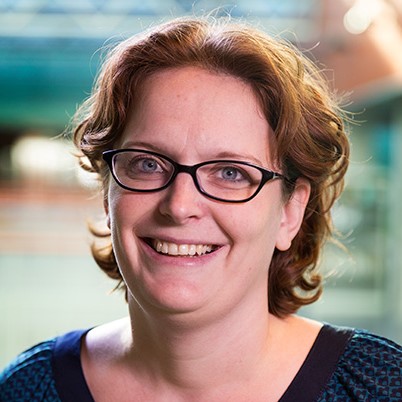 On Tuesday 30 April, DIFFER welcomed its new institute manager Freya Senf, who will formally start in her new position on August 1st. Freya Senf already has extensive experience in managing a scientific institute as managing director of the Radboud University's Institute for Molecules and Materials since 2015. At DIFFER, she will oversee the institute's support facilities and be part of the institute's management team together with director Richard van de Sanden and theme leader fusion energy Marco de Baar.
---
DIFFER-directeur Richard van de Sanden is blij met de komst van Freya Senf: "Met Freya hebben we de juiste persoon op een zeer belangrijke positie binnen het instituut. Samen met haar zie ik er naar uit om DIFFER's rol als toonaangevend energieinstituut in het Nederlandse kennislandschap te borgen en verder uit te bouwen."
Mogelijk maken van onderzoek
De rode draad in Senf's loopbaan is het mogelijk maken van hoogstaand wetenschappelijk onderzoek. Sinds 2015 heeft Senf ruime ervaring opgedaan met het managen en de bedrijfsvoering van een onderzoeksinstituut als managing director voor het Instituut voor Moleculen en Materialen van de Radboud Universiteit. Na haar promotie in de moleculaire biologie werkte ze eerst bij een subsidieadviesbureau en daarna bij Technologiestichting STW, nu het NWO-onderdeel TTW.
De nieuwe instituutsmanager ziet ernaar uit te beginnen bij DIFFER: "Het maatschappelijk belang van onderzoek naar schone energietechnologie spreekt me zeer aan en ik kijk ernaar uit de mensen van het instituut beter te leren kennen", vertelt Senf. "Samen met hen wil ik de bedrijfsvoering oppakken en waar nodig verder optimaliseren en zo het instituut nog meer slagkracht te geven. De komende jaren hoop ik DIFFER te helpen positioneren als dé kennispartner voor fundamenteel energieonderzoek in Nederland en Europa en de banden met andere kennisinstellingen en bedrijfsleven verder uit te bouwen."
Freya Senf is getrouwd en moeder van twee kinderen. Ze vormt samen met wetenschappelijk directeur Richard van de Sanden en themaleider fusie-energie Marco de Baar het management team van DIFFER.