Long term electrical energy storage and energy sector integration are key to reach large scale sustainable energy deployment. CO2-neutral fuel production seems to be a promising approach also in addressing key social objectives relating to climate change, energy independence and security, as well as a path to a low-carbon economy. Developing transformative energy technologies that will provide flexibility and energy efficiency is the main objective of the non-equilibrium fuel conversion group.
Our plasma phase offers a combination of features that makes it a promising approach to reach the need of energy efficiency and scalability. In the particular case of CO2 dissociation, it has proven high energy efficiency (up to 90%) due to selectivity in the reaction processes that can be tailored via its inherently strong out-of-equilibrium processing conditions. At the same time, our approach is characterized by:
low inertia – efficient and fast power switching is possible, required to couple to intermittently available electrical energy sources;
low investment costs – therefore not imperative to run 24-7, another requirement for compatibility with intermittency;
no scarce materials required – prerequisite to scalability.
Read more on research within NFC
News
Nuclear Fusion has included the paper on NFC's contribution to the JET programme in their list of 2016 highlights. Untill the end of the year, the paper is for free to read and download: ELM-resolved divertor erosion in the ITER-Like Wall.
The NFC group has been awarded a grant within the NWO Solar to Products programme. Our CO2SPARE project will investigate how to valorise the CO2 content in biogas by means of a novel plasma approach.
The TU/e news site Cursor has highlighted the mission of the NFC group: Bij zonnebrandstoffen telt iedere cent (in Dutch).
BNR-radio has interviewed Gerard van Rooij on the subject of CO2 activation: CO2 als oplossing voor het klimaatprobleem (in Dutch).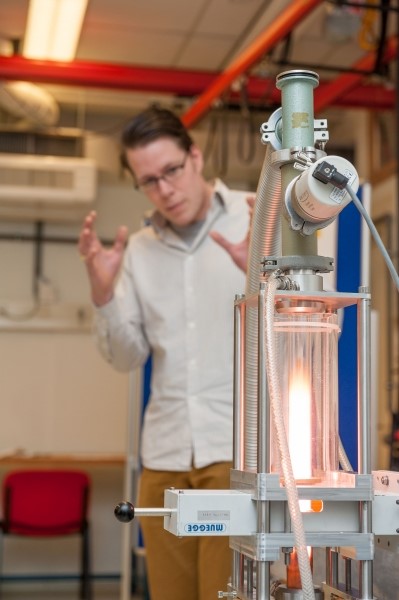 .
Group history
Before refocusing to the solar fuels research theme, the group was named Low Temperature Plasma Physics and Heating and investigated the plasma physics of fusion boundary plasma in general and of the DIFFER linear plasma devices. Activities in this context are still ongoing in collaboration with international fusion experiments.