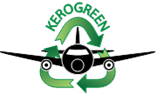 Date: November 15, 2019
Location: DIFFER, Collegezaal
Registration deadline: October 31, 2019
Abstract submission deadline: October 31, 2019
The workshop flyer is available here. 
KEROGREEN is a Research and Innovation Action (RIA), financed by the European Commission under the Call Topic "Competitive low-carbon-energy - new knowledge and technologies" (H2020-LCE-06-2017) in the H2020 Work programme "Secure, Clean and Efficient Energy".
The main goal of this 4-years project is the development and testing of an innovative conversion route for the production of sustainable aircraft grade Kerosene from water and air powered by renewable electricity. The KEROGREEN conversion route is based on plasma driven dissociation of air captured CO2, solid oxide membrane oxygen separation and Fischer-Tropsch (F-T) kerosene synthesis.
Plasma technology offers new prospects for the activation of molecules, atoms, radicals and ionised particles interacting with electrochemically active materials, resulting in enhanced productivity and reduced energy consumption. This workshop solicits contributions in the development of new fuel synthesis techniques based on novel materials, both experimental and theoretical, leading to commercially attractive production routes. The technology should be consistent with future decentralised electricity production sites, often remote and spread out over large areas, with individual units at the MW scale, as opposed to the high energy density plants of today localised in urbanised areas. Long distance transport of the gaseous and liquid fuels produced is by pipeline, rather than by expensive high voltage powerlines.
The KEROGREEN project has received funding from the European Union's Horizon 2020 research and innovation programme under grant agreement No 763909.